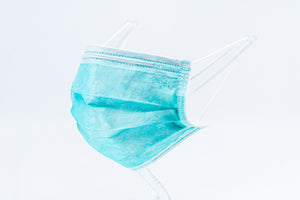 Good Mask Adult Petite / Ladies 160mm-50 Pieces ASTM LEVEL 3 as low as $0.38/mask!
Sale price Price $14.24 Regular price $32.21 Unit price / per
Due to wild-fire across Canada, it is recommended to wear mask certified with at least 98% PFE rating (Particulate  Filtration Efficiency)
If you are vulnerable / allergic to poor air quality, pollen, etc., wear a breathable, well-fitting, and high-quality masks.
Not Eligible for Return, Refund or Exhange Due to health and hygienic regulations
This 3-ply medical grade disposable mask with Bacterial, Penetration and Viral Filtration Efficiency over 99%, which is rare find in Medical grade ASTM Level 3 mask.
Virus size is normally 0.1 micron, and bacteria is about 0.3 micron. When buying surgical / medical disposable mask, look for package with Viral Filtration Efficiency rating e.g. VFE>99%.
All masks are manufactured in Clean Room ISO 14644 (Class 8) and GMP standard.

50 pieces per box with THREE Good Mask Pouches for FREE! (while supply last)

With top grade meltblown, Good Mask provides excellent breathability; enhanced ear loop to avoid accidental ripping by force; double nose wire is designed for your comfort and protection.
Magnified Melt-Blown Filtration Layer (Microscope X 200) see below. No visible pores can be seen.
Second generation of Good Mask Premium Series ASTM Level 3 Inner shell uses "Nano enhanced" Fabric to give you an ultra comfort feel and improve breathability. Greatly reduce oil builds up on skin and reduce blocking of follicles to form pimples.
All masks are microbial cleanliness /bioburden tested. Thus, reduce the chance of having allergic reaction.

Specifications
Size: 175mmx95mm (+/- 5mm) - Fits most adults (browse Product Page
Size: 160mmx95mm (+/- 5mm) - Fits ladies and small face shape
Bacterial Filtration Efficiency >99%
Particulate Filtration Efficiency > 99%
Viral Filtration Efficiency > 99%
Three Layer Constructions
Outer Shell: Water Resistance non-woven fabric; Class 1 Ignition rating
Filtration Layer: Top-graded Melt-Blown Fabric
Inner Layer: NANO Enhanced non-woven fabric provides superb breathability, comfort, and less irritation on delicate skin.
Enhanced Ear-loop provides comfort on ear but also prevent breakage.
Wired nose bridge - easy to mold and hold the shape you molded to prevent fog formation on glasses.
50 pieces per box
Shelf Life: 2 years
Certifications & Authorization
ASTM F2100 Level 3 Medical Grade
EN 14683 Type II R
FDA & CE Certified
EU GMP & PIC/S PE Grade D
Clean Room ISO 146441-Class 8
Health Canada MDEL License # 13740
Solely imported by Sunwealth Trading Inc.
Note: Not all packages embossed with Elephant Logo.
***This Product DOES NOT CONTAIN Graphene***